CareAR and CBA Announce Partnership to Expand Service Experience Management (SXM)
CareAR and CBA Announce Partnership to Expand Service Experience Management (SXM)
CareAR and CBA Announce Partnership to Expand Service Experience Management (SXM)
Through this partnership, many companies will be able to realize more efficient and high-quality services and customer experiences by utilizing CareAR's AI platform based on augmented reality and computer vision.
November 8, 2022 (Tokyo) CareAR™, a company under the umbrella of Xerox that leads the field service and other service experience management (SXM) market , today announced a partnership with Communication Business Avenue (CBA). And we will start providing SXM platform solutions for companies in the Asia Pacific region. Headquartered in Japan, CBA is a solution integrator and call center technology service provider that supports over 900 customers globally, including 400 user companies with over 40,000 operators worldwide.
Through this partnership, with the establishment of a CareAR center of excellence, along with an end-to-end service transformation effort leveraging the CareAR SXM platform suite available in Japanese, Indonesian, Chinese (Mandarin) and Malay, CBA will expand market entry in Japan and ASEAN. Customers in the region and around the world will now be able to take advantage of the rich capabilities of CareAR's enterprise visual AR and AI-powered service platform.
CareAR features enable remote support for contact centers, experts, field technicians, employees and customers. Receive visual, real-time AR and AI self-guided instructions on your device of choice, including desktop, mobile, wearables and drones.
Through this partnership, CBA will provide an effective way to dramatically optimize operational efficiency and customer experience by virtualizing many of the manual processes that plague typical customer service, field service, and IT service operations. This includes extending workflows by performing visual diagnostics and troubleshooting remotely, providing self-guided instructions and explanations to employees and customers, and automating visual tasks and status verification to ensure quality and consistency of completed work.

"I think this partnership represents the intersection of technological innovation and market expansion," said CareAR Chief Revenue Officer Sajir Hussein. "CareAR's platform uses AI and AR to enable easy-to-create content and remote self-help service experiences, but being leveraged on a global scale will make our solution even more. This is where partners like CBA come into play, with a proven track record of bringing solutions to market and accelerating growth, centered around their CareAR platform. With our service practices and network of customers and partners in Asia Pacific and Japan, we are bringing the SXM platform to the region to transform customer and employee service engagement, saving costs, optimizing experiences, and promoting brand growth".
CBA President Hiroshi Shibayama also commented: "We are thrilled that this partnership will bring Xerox and CareAR technology to the companies and people who need it most. We look forward to working together to best serve our customers in Japan, Asia Pacific, Europe and the United States, and looking forward to growing and expanding our partnership as one team."
CareAR and CBA will participate in the Call Center/CRM Demo & Conference 2022 in Tokyo on November 10th and 11th in Tokyo with CareAR demo exhibitions, presentations and mini-seminars. For more information on CareAR and SXM solutions, please visit https://carear.com/ .
CareAR website operated by CBA: https://carear.cba-gbl.com/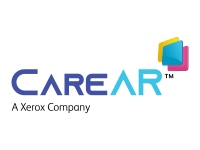 CareAR, A Xerox Company, is the Service Experience Management (SXM) leader. We make expertise accessible instantly for users through remote, live visual augmented reality (AR) and AI interactions, instructions, and insights as part of a seamless digital workflow experience. CareAR sets the benchmark for the SXM category by bridging skills gaps, accelerating knowledge transfers, providing greater operational efficiencies, and enhancing customer outcomes and safety. Learn more at CareAR.com.
About Communication Business Avenue Co., Ltd.
Communication Business Avenue, Inc. (CBA) is a privately held holistic Communication solution integrator and service provider that enables a wide range of platform automations and solutions. We implement cutting-edge Omnichannel, AI technology, and other solutions with innovations that meet a host of Business communication challenges. With a mission to always be helpful and hospitable, CBA provides technologies and business methodologies that will help you reach significant business growth.
Since 2006, we have integrated and supported the latest communication technologies for over 900 clients in 35 countries across different regions. Utilizing highly immersive and overarching cloud computing solutions with expertise that even includes WebRTC multimedia solutions for on-premise, cloud, and mobile applications, we inspire solutions that meet any industry's communication needs.

For more information, please visit www.cba-gbl.com or contact Mark Sterling, mark@cba-gbl.com