Basic Knowledge of Managed Live Chat - Features, Benefits, Introduction and Operation Methods

Managed live chat is becoming increasingly popular in call centres and other customer service areas and is widely used because of it's high convenience for customers.
However, it's also true that there are issues and problems that can occur when trying to implement messaging and as such, many companies are still hesitant to introduce it.
In this article, we'll explain the features of manned live chat and what the advantages are in introducing it, how to avoid common mistakes when implementing it and how to ensure that operations run smoothly. At the end of the article, six frequently asked questions that are useful for manned chat operations are also included for reference.
Communication Business Avenue
,
 has been helping some of the world's largest companies to integrate call centre systems and digital communication tools for the past 16 years
What is managed live chat? 
How to operate a hybrid between managed live chat and a chatbot 
Advantages of managed live chat
Disadvantages of manned chat
Flow of introducing managed live chat 
Frequently asked questions about managed live chat operation
Why should managed live chat be introduced now? 
The next generation of manned chat is messaging
What is managed live chat?
Managed live chat or 'manned chat' is a service where a human representative responds to enquiries via chat.
As it is mainly text-based, it offers the convenience of allowing customers to make enquiries from a variety of locations, such as on the train. It is a customer service channel whose use has been increasing in recent years.
Differences between managed live chat and chatbots
Along with manned channels, chatbots are becoming increasingly popular as a non-voice channel. What are the differences between the two channels? The difference between managed live chat and chatbots is whether they are handled by a human or a robot. Here is a brief description of the characteristics of each:   Modern chatbots are equipped with AI and can respond to many queries unattended. However, they are not good at answering multiple questions at the same time or understanding and responding to long sentences of context. Manned chat, on the other hand, is handled by humans and can respond to customers' questions in detail; the manned channel can cover the areas where AI is weak. This service offers a high level of customer satisfaction, but is hampered by labor costs.
You may be thinking, "Should I implement managed live chat or a chatbot?" The short answer is that both solutions can be useful when used together or separately.
However, in some cases, it may be best to implement either one or the other. Here are some cases where a hybrid of both managed live chat and chatbots, is recommended.
1. Cases where managed live chat is recommended
You may be thinking, "Should I implement managed live chat or a chatbot?" The short answer is that both solutions can be useful when used together or separately.
However, in some cases, it may be best to implement either one or the other. Here are some cases where a hybrid of both managed live chat and chatbots, is recommended.
2. Cases where chatbots are recommended
Call centre or customer support with insufficient human resources             
Want to provide 24/7 support                          
You receive many enquiries with the same content.  
3. Cases where hybrid operation is recommended
Want to use a chatbot for preliminary enquiries and a managed live chat system for actual responses. You want to use chatbots for general FAQs and manned chat for complex questions.   Hybrid operation makes it easy to utilize the features of both manned chat and chatbots. However, if you want to introduce one or the other for the time being, try manned chat. After you have accumulated a certain amount of knowledge and experience in handling chat, introducing a chatbot will make it easier to operate. If you cannot decide which one to choose, it may be best to consult with your vendor.
How to operate a hybrid managed live chat and chatbots
How can hybrid operation of manned chat and chatbots be carried out? For example, the flow of enquiries can be divided into three categories: initial response, intermediate response and close, and each system can be allocated to one of these categories.
Initial response → chatbot
Intermediate response → manned chat
Close → chatbot
Let's look at the actual flow of an e-commerce site as an example:
🤖 – "Hello. What are you looking for?"
🧑 – "It's our wedding anniversary next week and I'm looking for a present for my wife."
🤖 – "You are looking for a gift? Yes, sir."
👩🏻‍💻 – "How old is your wife?"
🧑 – "She's 35 years old. She prefers natural clothes."
👩🏻‍💻- "Do she have a preferred colour?"
🧑- "I'm not sure, but she doesn't seem to like pastel colours."
🤖 – "Can I pay by the credit card I used last time?"
🧑 – "Yes"
🤖 – "Is the mailing address the registered address?"
🧑- "Yes, that's right" 
✅ Chatbots could handle the "initial response" and "close" parts, which can be handled in a standardized scenario, while operators could handle the "intermediate response", where different customers have different queries.
Advantages of managed live chat
Managed live chat and chatbots each have their own characteristics. This section considers the advantages of manned chat in more depth.
Here are eight advantages of manned chat as perceived by companies that have actually implemented it.
The customer support team receives a wide range of enquiries. Customers may not just want answers to questions, but also a consultation, or they may ask about the features of your product in comparison to other companies' products. Manned chat can respond to these complex queries in a flexible manner.
2. Lowering the hurdles to enquiry
Customers may have questions that don't require a phone call or email, but are of a complex nature. In such cases, chat allows them to formulate their response in a clear manner, without the stress of having to explain everything in the moment. Unlike telephone calls, customers can make enquiries without speaking out loud, and the system is also highly regarded for being usable from any location.
Telephone support is based on one-to-one conversations. With manned chat, a single agent can handle multiple chats, leading to a reduction in labor costs.
4. Increased operator efficiency
With manned chat, one operator can respond to multiple enquiries. The time to close the issue  is also shorter, as the response can be based on information pulsed from databases and knowledge gained from the context of the chat. Furthermore, chat responses do not require logging post-processing time compared to telephone responses, resulting in higher cost-per-hour (CPH).
One of the main reasons for customer frustration is long waiting times. With manned chat, one person handles multiple queries, so waiting times are shorter than with telephone support.
Combined with a chatbot, the wait time will be even shorter, as the bot can handle the general correspondence and the human can focus only on the more complex matters.
Manned chat speeds up the response time. Unlike email responses, it takes less time to respond as there is no need to prepare a coherent text. Short sentences are exchanged, allowing for a fast-paced response.
7. Call volumes can be reduced
The introduction of manned chat reduces the call volume to the call centre. A system can be created in which general enquiries are handled via chat, and only customers who insist on calling can be answered by operators.
8. Easier for foreign-speakers
Manned chat also has the advantage of being easier to use for customers whose first language is not the one spoken natively by the agent. The Call Centre White Paper 2021 describes the advantages of manned chat as follows.
"Some users were seen to use it in ways that are unique to chat, for example using an online translation function to have a conversation."  Source: call centre white paper 2021 omni-channel experience survey.
This is a benefit that is being realised in the tourism industry, where inbound support is required, and in local governments with large numbers of foreign residents.
Disadvantages of manned chat
Let's look at just four disadvantages of manned chat. We'll also explain how to deal with the disadvantages.
1. The need for a dedicated person in charge

Manned chat naturally requires a dedicated contact person. This is a painful disadvantage for call centres and customer support with limited human resources.
If there is a shortage of human resources available for manned chat, a chatbot can be introduced.
2. Delays in replies

As chat is an easy channel for customers to use, the number of enquiries tends to increase. The disadvantage is that it's easy for the response to be delayed. There are two ways to deal with delayed replies to manned chat.
Ensure that the support system is up to scratch.
Lower expectations.
You can improve the speed of replies if you have a good support system in place, such as "a good FAQ for chat staff" and "scenarios for common queries".
Attempting to lower the expectations of customers using manned chat is another way of coping. Let's look at some real-life examples.
"Some companies have set up an auto-reply upon receiving a chat request, stating that "Due to the fact that we are dealing with multiple customers, it may take some time for us to start responding and enter a response. In addition to the rule of "starting to respond within X seconds", it is also necessary to work on "lowering expectations" in this way." Source: Call Centre White Paper 2021 Omni-channel Experience Survey.
If customers know that they will not receive a reply immediately, it will prevent delays in reply leading to abandonment and complaints.
3. Not available outside business hours
Manned chat cannot be handled outside business hours. Response on public holidays and weekends is also limited. Customers have a need to get answers when they want to know, so it is a disadvantage that there are times when answers are not available.
You can either make the chat available 24 hours a day by using an overseas resident as the chat person, or introduce a chatbot to respond to the customer. You could have a simple scenario-based chatbot send a message such as "We will reply to you by email during the next business hours".
4. Chat window withdrawal
In some cases, Think carefully about the timing of the manned chat pop-up and the page design.
The process of manned chat
Introducing manned chat requires some preparation. To know what to prepare, check out the flow of introducing manned chat.
The introduction of manned chat can be divided into five steps: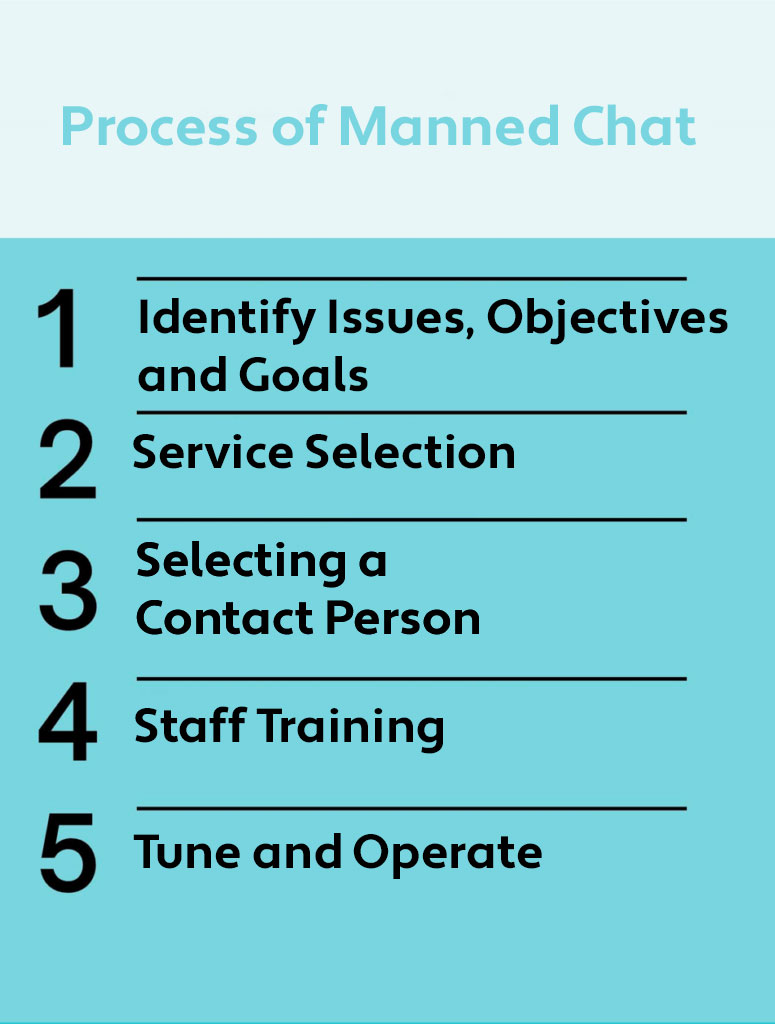 Step 1: Identify issues, objectives and goals
Identify which issues you want to solve and what goals you want to achieve by introducing manned chat. When you know the issues to be addressed, you will know the number of cases to be handled, which will help you to select the person in charge. If the goals are clear, KPIs can be set.
Step 2: Selecting a service
When selecting a managed live chat service, make sure it supports chatbots and messaging, which will be discussed later. It is better to implement a service that is scalable, so that it can meet the needs of your customers in the future.
Step 3: Selecting a contact person
Chat responses are similar to conversational responses. It is better to choose an experienced operator who has experience in handling telephone calls than an operator who has extensive experience in handling emails.
Step 4: Training of the contact person (chat etiquette and operation)
Training of agents should include chat etiquette and how to use the tool. When starting a chat service for the first time, training content dealing with external manned chat can be used. Some vendors also provide training content, so feel free to consult with them.
Step 5: Tune and operate
Manned chat services are gradually improved while in operation, and the aim is always to improve customer satisfaction. Relevant improvements can be made by monitoring response histories and customer evaluations while operating the service.
Tuning is also necessary, such as improving the FAQs for customers and developing response  templates for agents to use.
Frequently asked questions about chat
Various issues become apparent when manned chat operations begin. Let's consider six issues faced by call centers that use managed live chat.
Who is best suited to handle chat? Email staff?
As mentioned above, telephone representatives are the best suited for chat handling. Many call centers assign chat handling to email-enabled operators.
In the Call Centre White Paper 2021, when asked who they assign chat representatives to, the largest number of companies (37%) said that the email-responsive operators are also in charge.
However, it is important to remember that the response skills required for chat have more in common with telephone support.
How many chats can be handled per operator?
Manned chat allows one person to handle a number of queries. However, be aware that too many cases can lead to errors and a drop in quality. So how many chats can one person handle?
Most call centres allow each person to handle up to three chats. It is important to note that the number of cases handled depends on the question being handled. For general questions, three can be handled at the same time, but for more complex questions, it is better to handle only one. The maximum number of responses should be determined according to the nature of the query.
What are the KPIs for manned chat?
What KPIs can you set to improve the quality of your manned chat responses?
Response time
Customer satisfaction
Average response time
Resolution rate
Response times should be emphasized, as chats can experience spikes in the number of responses.
What to do when you can't get through?
What should you do if a manned chat representative is unavailable and no one is available to answer?
Ask them to join a queue
Announce the average response time
Hide chat pop-ups
Be careful not to overuse the 'Hide chat pop-ups' option, as this will make customers unaware of the presence of a manned chat service.
What if a customer does not reply?
Sometimes it's difficult to get a reply during a chat with a customer. If you do not receive a reply, you cannot close the session and your work will be delayed. Wait for a certain amount of time and then close the session.
More than half of call centres set a waiting time between five and ten minutes.
When to increase the number of chat representatives?
After starting to operate a manned chat service, one of the biggest headaches for managers is adjusting the number of people to be deployed. During which hours should more or fewer representatives be deployed? Let's take a look at the rate of manned chat usage by time zone in Mobils' 'Questionnaire on customer contact centre usage'.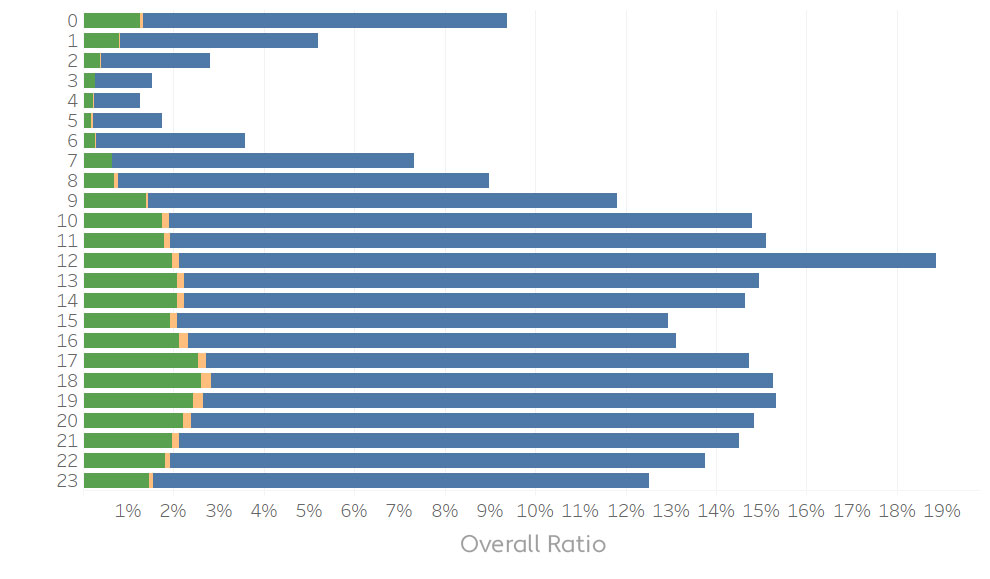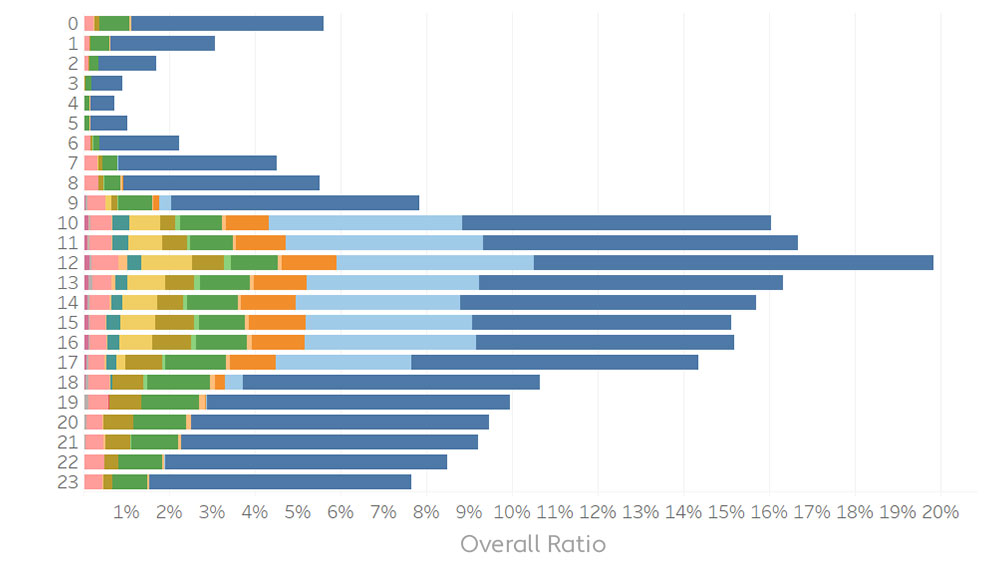 The table above shows that the usage rate of manned chat is high during the daytime between 10am and 5pm.
What would the utilization rate be for 24-hour manned chat?
In the case of 24-hour service, there is a constant rate of use from 9am to around midnight, although there is a spike in usage during the lunch hour. The only time when the utilization rate decreases is around 1:00 to 6:00 am at dawn.
The above information can be used to allocate the number of people. Manned chat has the advantage of being more flexible in the allocation of staff than telephone chat, as one operator can handle two or three cases at a time.
Why you should introduce manned chat now
When considering the introduction and operation of manned chat, you may feel that it will take a lot of time and money, or that you're busy at this time of year and will introduce it a later.
It is true that it takes time and money to get a manned chat operation off the ground. However, if you have a vendor to support you with set-up and training, you can introduce and operate the system efficiently.
In addition, remember that non-voice customer service is now a must. The Ministry of Internal Affairs and Communications' Voice Communication Usage in Japan from the Perspective of Communication Volume (issued in February 2021) shows that the number of domestic voice traffic communications in 2019 was 17% lower than in 2013.
⚠️ Despite the number of mobile phone subscriptions increasing year after year, voice traffic continues to decline.
✅ This indicates that text-based communication rather than voice is the trend.
The Call Centre White Paper 2021 provides the following analysis of the changes in communication.
"Even BtoB interactions are being replaced by chat-type communication, such as Slack, both internally and externally, by the Corona Vortex.
Most companies, both BtoB and BtoC, have opened emails (web forms) or set up chats and chatbots as customer contact points and are promoting 'omni-channel support'."
Source: call centre white paper 2021 omni-channel experience survey.
The trend towards non-voice in customer service has already started. The omnichannel style, which includes chat and other non-voice channels in addition to voice, is the current trend.
Furthermore, research has shown that users of manned chat are older: 32% of users are in their 50s, 24% are in their 60s or older, and more than half are in their 50s or older. The need for manned chat support will further increase in the aging society.
It is also noteworthy that the satisfaction of those who have used manned chat is high. 83% of those who received a chat or on line response felt that they had a positive impression.
Manned chat is an effective measure for improving customer success and the customer journey.
It is imperative to promote non-voice customer service in the future.
When call centres operate non-voice channels such as manned chat and chatbots, there are cases where it is better to introduce a contact centre system together.
This is because an omni-channel contact centre system allows both non-voice and voice channels to operate on the same system.
Modern contact centre systems support the following webchats
Manned chat
Chatbots
Proactive chat
Video chat
Check whether your current contact centre system is omni-channel ready. If you would like to know more about omni-channel enabled contact centre systems, CBA will be happy to explain it to you.
Messaging is the next generation of manned chat
The next generation of chat, messaging, is being used in call centres in the USA. Messaging is asynchronous chat, i.e. a chat service that does not break session, like LINE, even on a website.
The advantage of messaging is that customers can start and stop chatting whenever they want. Both real-time chats and chats that start where they left off after some time has passed can be conducted on the website. The entire history and context of the conversation with the operator is stored.
This means that the issues with manned chats, such as the fact that they are not resolved in a single exchange, that you have to stay in front of the screen during the chat, and that the history is erased when the session ends, are improved in messaging.
Messaging can handle more than manned chats at the same time, as the operator is not focused on replying in real time.
Contact CBA to find out more about messaging tools.
Unlike chatbots, managed live chat is a service where a human representative responds to customers. As it is mainly text-based, customers can make enquiries from anywhere, and as it is a human response, complex enquiries can be answered.
The advantages of manned chat are that it increases operator efficiency and reduces customer waiting time. Another advantage is that it is easier for foreigners to use the translation function to make enquiries.
There are five steps to implementing the system. By identifying the issues in the first step, you will know whether you really need a manned chat system or whether you should start with a chatbot.
After implementation, you need to give adequate support to agents, monitor the system and check the quality of agent interactions with customers. Assign a dedicated person to be in charge of these tasks and carry out the PDCA cycle.
If you want to move to non-voice, but are worried about whether you can successfully operate a manned chat system, you can first assess the issues and consult with the vendor for now. They can tell you whether you should start with manned chat, chatbots or messaging.
The trend in customer service is already changing from voice to non-voice, so use manned chat to improve customer satisfaction.