Join us in CCW 2023 in Las Vegas for the must-attend event of the year!
Come and explore the latest in cutting–edge technology at CBA's booth at CCW 2023 in Las Vegas, Nevada! Our booth will be full of innovative solutions such as Live Assist for Microsoft 365, Optipass, and CareAR – all designed to help brands and businesses take their operations to the next level. Don't miss out on your chance to experience the future of customer service!
We invite you to join us at CCW 2023 in Las Vegas to experience the power of Live Assist for Microsoft Dynamics 365 (LAD365). This communication solution is fully integrated with Microsoft Dynamics 365, providing a seamless experience with live chat, browser screen sharing, voice/video chat, and chatbots.

With LAD365, customers can easily communicate with brands directly from the browser or app. The browser screen sharing function allows operators to quickly display and operate the same application screens and webpages as customers, while the audio and video capabilities reduce talk time and provide a more convenient self–service experience.

LAD365 helps to deliver a consistent, personalized customer experience without limiting customer engagement channels. We look forward to seeing you at the event!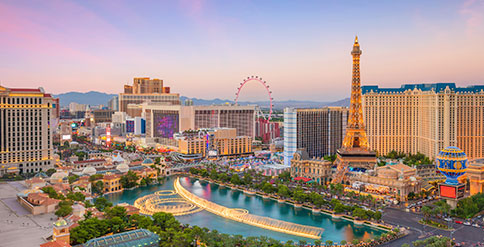 Add CCW 2023 event to your calendar
This summer, the world's leading customer contact event series – Customer Contact Week – is back in Las Vegas, NV (June 19–22, 2023)! Over the past 25 years, this conference has become the go–to event for contact center and CX professionals seeking to learn the newest and most innovative strategies, technologies, and best practices.

Attendees will be able to hear from the top executives and industry leaders, as well as connect, share ideas, and build relationships. Don't miss your chance to be a part of this influential event and start transforming customer experience today!
This year marks the 25th anniversary of the Customer Contact Week (CCW) and it's guaranteed to be bigger and better than ever! Featuring over 200 exhibitors, CCW 2023 offers a wealth of opportunities to meet and network with brands, businesses, and executives in the contact center space.
Plus, the main stage will be headlined by some of the biggest names in their respective industries. Abby Wombach (Soccer Legend & NYTimes Best Selling Author), Mark King (CEO of Taco Bell), Jenn Lim (CEO and Cofounder Delivering Happiness), Jon Dorenbos (NFL Long Snapper and America's Got Talent Finalist), Rebecca Jarvis (Chief Business, Technology & Economics Correspondent of ABC News).
At CBA (Communication Business Avenue), we strive to provide the most effective solutions for businesses across the world. We are proud to partner with industry-leading companies such as LivePerson, CareAR, Bright Pattern, ITyX, Avaya, Cisco, and more, to offer our clients the best options for their needs. Our solutions, such as Live Assist for Microsoft 365, Telescope, CBA Live Assist, and CareAR, help brands to optimize and improve their services, ultimately helping them to increase customer satisfaction.
Visit cba-gbl.com for more info.