Chatbot pop-ups are increasingly seen on e-commerce sites and company websites. Chatbots in which AI answers questions are currently becoming increasingly popular.
In fact, there are other types of chatbots as well as those operated by AI. In this article, we will explain the basics of chatbots and the advantages of introducing AI chatbots.
At the end, we will also explain how to introduce them without making mistakes and tips on how to operate them successfully, so please refer to this article.
Communication Business Avenue has been helping some of the world's largest companies to integrate call center systems and digital communication tools for the past 16 years.
Essentially, a chatbot is a software program that can interact with human users, with the help of written language, most commonly through online messaging applications. It is sometimes referred to as an 'automated conversation program' using text. The use of chatbots by firms and companies in the US has noticeably increased since 2016.
There are two types of chatbots:
AI chatbots
Scenario chatbots
AI chatbots are a type of chatbot that uses Natural Language Processing (NLP) to learn and make decisions of it's own during an interaction with users. Guided chatbots are the type that chat according to a predefined scenario.
Differences Between AI Chatbots and Scenario Chatbots
AI chatbots are capable of self-learning based on a vast amount of data and can give flexible answers. They are able to recognise the user's speech and habits while responding to them. In addition to answering questions, chatbots can also analyze user trends and suggest services. It can respond to free-text, which is a feature of high customer satisfaction.
Guided chatbots, on the other hand, can only respond within the expected standardised text. For example, this type of chatbot responds to the question "What can I do for you?" by selecting from a menu of options such as "This month's billing amount", "Request for information" or "Questions about the product", and then proceeds with the conversation. This chatbot is good at responding to frequently asked questions. Although there are limits to the number of questions they can respond to, they have the advantage of being simple to programme and easy to implement.
Advantages of AI Chatbots
Guided and AI chatbots have different characteristics. This section delves into the benefits of AI chatbots, which have become a recent trend.
Advantage 1: Reduced Workload
The advantage of implementing AI chatbots is that they can reduce the burden on employees. It can be difficult for customer support desk and helpdesk personnel to deal with customer enquiries 24/7, especially when they are assigned late night, weekend or public holiday shifts. With AI chatbots, however, this is not a problem.
Implementing AI chatbots can also reduce the costs. According to some estimates, spending just two hours a day on the phone with a customer can cost upwards of 8 thousand US dollars per year. By using an AI chatbot, you can reduce the cost of the two hours of human response.
Advantage 2: Increased Touchpoints With Customers
However, introducing AI chatbots can eliminate complaints related to long waiting times. This is because AI chatbots respond to general questions, and only unresolved issues are handled by manned operators.
AI chatbots can also be used from company websites and social networking sites, which can improve customer convenience as the number of touchpoints is increased.
Advantage 3: Marketing use
Conversations between AI chatbots and users can also be a goldmine for marketing insights. The current needs of your customers can be understood from their interactions with your bots. For example, analyzing user queries such as "I want to know about product X" or "solution X is inconvenient" can help you to understand your customers and develop new products that better address their needs.
Advantage 4: Increased sales
When a customer on an e-commerce site is unsure about a purchase, an AI chatbot can intervene and offer assistance. It can find out why the customer is hesitating and help to resolve their concerns and doubts.
It can also increase the purchase rate of products and services and encourage the continuation of additional options and subscriptions.
Advantage 5: Lower the barriers to enquiry
AI chatbots can be used easily from either a PC or a smartphone. They are also more appealing to users who prefer not to talk to people on the phone, as communication can be done quickly and efficiently via messaging. The service is also available even outside of traditional business hours, adding another layer of convenience.
By lowering the hurdles to making enquiries, customer satisfaction can be improved resulting in positive customer feedback.
Advantage 6: Multiple Enquiries Can Be Handled Simultaneously
Whereas in traditional voice customer service, one operator can only handle one customer, AI chatbots can handle multiple customers at the same time. This reduces customer waiting times and operator stress.
Advantage 7: Knowledge Accumulation
AI chatbots accumulate knowledge and steadily improve the accuracy of their responses.
A common trend in customer support in the past has been a lack of knowledge sharing. Specific areas of product knowledge were often restricted to certain employees. Unless an employee was familiar with a particular product, it was impossible to answer complex questions.
However, by introducing AI chatbots, you can deliver accurate answers to customer enquiries without becoming heavily dependant on any one employee to provides those answers. With Ai, the accuracy of answers naturally improves as knowledge is accumulated.
Disadvantages of AI Chatbots
Although AI chatbots have many advantages, there are also disadvantages. Three disadvantages are described below.
Disadvantage 1. Time Is Needed to Start Operation
When introducing an AI chatbot, the AI needs to be trained. You have to teach it three things to ensure a smooth response:
Possible questions and answer phrases
Conversation flow scenarios
Language variation (e.g. 'I'm a customer', 'I am a customer')
The customer support team needs to Incorporate all the FAQ information that they have shared with customers.
You must also create and teach a conversation flow for answering questions and scenarios based on question and answer branches.
The possible notational variants of a single question must also be taught. In other words, a certain amount of time and testing is required before the AI chatbot is operational.
Disadvantage 2: Some Questions Cannot Be Handled
AI chatbots are not perfect tools. It can answer the range of questions it has been trained to answer, but it cannot handle anything else.
According to the Call Centre White Paper 2021, 37% of chatbots were able to solve problems on their own. Combining this with the 15% who were able to solve the problem on the website guided by the chatbot, only about half of the users were able to solve their problems. In other words, AI chatbots are still a developing tool.
Disadvantage 3: Cannot Handle Many Questions at Once
AI chatbots require a high level of literacy from users in some areas. For example, they may not be able to respond to more than two questions at a time. There needs to be a process of asking only one question, waiting for an answer, and then asking the next question once the answer has been received.
13 Examples of AI Chatbots in Use
While AI chatbots have their disadvantages, they also have significant advantages and potential, which is why they are being introduced worldwide. Their use is also expanding beyond customer service.
We have picked up some useful case studies for those who want to know in what fields AI chatbots are being used and find out how they can best suit their company.
Let's take a look at some examples:
AI chatbots are beginning to play an active role in corporate recruitment. In fact, for applicants, interviewers sometimes find AI chatbots more beneficial than humans. This is because they can ask questions that are difficult to ask.
For example, AI chatbots can ask questions that are difficult to ask face-to-face, such as "Do you have a good benefits package?", "Is it easy to get paid?", "Do you often have drinking parties in the company?" and "What is the turnover rate?".
Companies feel that this is beneficial because they can eliminate the concerns and worries of applicants without incurring labour costs.
In large companies with a large number of employees, AI chatbots are used by back-office departments that respond to queries from employees. One company was able to cut its annual workload of more than 70,000 telephone enquiries in half with AI chatbots. This reduces the workload of employees working in general administration and human resources departments.
Using AI chatbots for internal FAQs can also promote knowledge sharing and create a system where knowledge is not lost even if experienced personnel are transferred or leave the company.
In some cases, AI chatbots are operated in combination with an automatic translation function. The actual response flow is as follows:
Instant translation of foreign language queries
Create a draft response using the Japanese database
Translate into the language of the query and reply.
This is often the case in the tourism industry, where there are many inbound visitors, and in municipalities with many foreign citizens. B-Spoke's chatbots are highly valued in the tourism industry and local government.
AI chatbots that can be linked to Microsoft Teams, an internal chat tool, are also being used. An increasing number of companies are using it for FAQs for employees, HR enquiries and confirmation with accounting.
They can respond to questions such as 'What are the required attachments for expense reimbursement?' or 'Can I claim expenses incurred when working from home?'
Next, let's look at examples of AI chatbot operations in key industries.
Universities and other educational institutions have introduced AI chatbots. This service answers questions from applicants, students and parents regarding entrance examinations.
AI chatbots are being used in the UK for medical advice: according to the AI White Paper 2019, there are examples of medical advice from AI chatbots prior to a video interview with a doctor. This measure can reduce unnecessary hospital visits.
Some medical institutions in Japan are also linking LINE with AI chatbots to make appointments for consultations and receive notifications of test results. Users can conveniently review the information later as the history is kept at hand.
Governments and local authorities are also increasingly adopting AI chatbots, with the aim of speeding up administrative services and improving convenience for citizens.
For example, the US Department of Homeland Security have developed 'EMMA' a chatbot intended to handle queries and requests related to immigration, green card, passport and other services offered by the department. EMMA currently handles an average of 1 million interactions per month and includes support in both english and spanish.
Chatbots are also finding innovative use cases in the restaurant and catering industry, being used to make reservations, show menus to potential customers, take orders, and collect customer feedback. The trend towards chatbot use within the catering industry is backed up by hard data – one study showed that over 71% of clients prefer using chatbots when checking their order status. Also, about 62% of Gen Z would prefer using restaurant bots to order food rather than speaking to a human.
Non-life Insurance Companies
Thanks to Haptik, Zurich Insurance's platform currently handles about 85% of client inquiries automatically, with 70% of all inquiries being totally automated without human help.
AI chatbots are also being used by football clubs. At a Slovenian football club, Mastercard, 2Mobile and LivePerson have jointly implemented an AI chatbot. The AI chatbot enables spectators to:
Purchase match tickets
Order food during the match and have it delivered to their seats
Purchase merchandise from the gift shop
Get updates on players
View club standings and match results
The use of AI chatbots in football clubs can increase convenience for spectators. For example, they can order food and drinks during the match or at half-time and have them delivered to their seats. There is no need to queue and no need to miss important moments.
Stadium staff can focus solely on providing service as the chatbot handles the customer service.
How to Implement a Fail-Proof AI Chatbot
AI chatbots can be used in a variety of ways. What preparations are needed when you decide to introduce them? This section explains the points you need to know in order to start operations smoothly.
Decide on the purpose of introduction
Why introduce an AI chatbot? By deciding on the purpose of introduction, you can decide whether you want an AI chatbot or a scenario-based system. Common reasons for introducing chatbots include
Call volume reduction
Cost reduction
Conversion Rate (CVR) improvement
Improved customer satisfaction (CSAT)
Please consult your vendor if you are unsure of the purpose of introducing a chatbot, or if you have decided on the purpose but are not sure which type of chatbot to choose.
Focus on customer satisfaction 
When introducing AI chatbots, it is easy to focus on the benefits to your company. Often, the first three of the aforementioned objectives are prioritised. However, the priority should be to improve customer satisfaction.
To improve customer satisfaction, it is important to be aware of the following points:
Designing a pathway for customers to use the chatbot
Chatbot scenarios
Extraction of contact intent.
Prepare these three points and follow the PDCA (Plan-do-check-act) cycle.
Decide on a dedicated contact person
A dedicated person is needed to carry out the PDCA cycle for the operation of AI chatbots. This is because the operation of a chatbot requires regular tuning, such as adjusting the lead design, updating scenario information, and adding contact intent. Please note that if you leave the PDCA cycle unattended, your chatbot will be perceived as having poor usability, and customers may stop using it, or you may receive complaints.
If you cannot afford a dedicated person, choose a vendor that offers implementation and tuning services.
It's generally not recommended to use AI chatbots alone when providing non-voice support. Chatbots and manned chat have different areas of expertise, so it is best to use them in combination.
For example, you may be able to create a flow where the chatbot conducts the initial customer contact and primary response to the enquiry while additional questions are handled by the manned chat.
Set KPIs when implementing the system; the following five KPIs are used by companies that have introduced AI chatbots
Percentage of correct responses
Resolution rate/number of surveys resolved
Zero hits rate/number of hits
Customer satisfaction
Usage rate (after chatbot guidance has been initiated via pop-ups, etc.)
An effective KPI for customer success is not the 'correct response rate', but the 'survey resolution rate and number of resolutions'. Focus on the 'resolution rate and number of resolutions', which shows whether the problem was solved by the chatbot's answers, rather than the 'correct response rate', which simply means that the chatbot provided an answer to the customer.
Three things to keep in mind when introducing AI chatbots
There are three things to keep in mind when introducing an AI chatbot:
Spare yourself the cost and hassle of implementation
AI chatbots are not a panacea
Take time to design the conversation
It is costly and time-consuming to train AI chatbots and design usable leads. Be aware that sparing the initial cost and effort will result in a chatbot with low response accuracy and low cost-effectiveness.
Some vendors will take care of the implementation work and initial tuning, so consult with them if you find it too much work to do in-house.
AI chatbots are not a panacea, or a 'cure-all solution'. Be aware that they cannot handle long-form questions or questions that can only be understood by reading the context. They are more effective when combined with manned chat.
AI chatbots are not a panacea, or a 'cure-all solution'. Be aware that they cannot handle long-form questions or questions that can only be understood by reading the context. They are more effective when combined with manned chat.
Involve operators in building & updating your chatbot
Once implementation is complete and AI chatbot operations are on track, two things should be kept in mind.
Check whether the business requires identity verification.
Do not reduce the number of inputs by force
Determine which tasks are most suitable for AI chatbots. For example, categorise whether the query requires identity verification or not, and consider which is best handled by an AI chatbot.
Enquiries requiring identity verification → enquiries, application procedures, change procedures
Enquiries that do not require identity verification → FAQs, product information, requests for information materials, and pre-chat survey's (e.g. finding out about requirements).
By narrowing down the areas in which AI chatbots can work efficiently, you will know where to focus your tuning efforts.
Second tip. There is no right answer to the number of times a customer enters a chatbot. There are figures that show a withdrawal rate of around 15% for every additional option, but this should only be used as a reference. The optimum number of times depends on the nature of the enquiry.
What is AI chatbot LivePerson?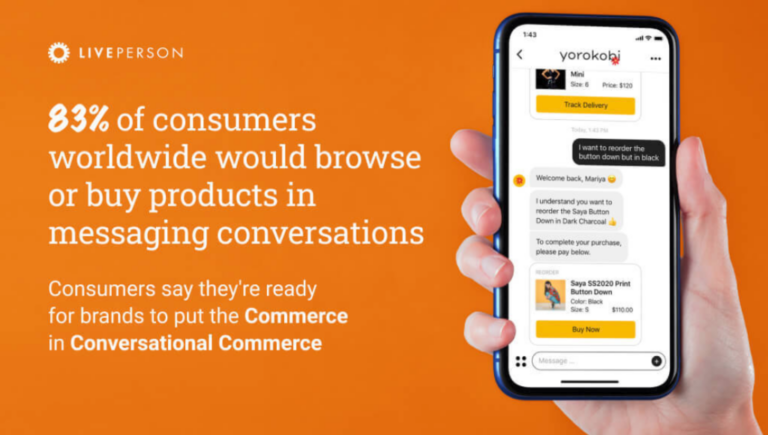 AI chatbot LivePerson is a service that allows users to add advanced chat functionality to their websites and apps. It is used by such corporate brands as Virgin Atlantic, HSBC, SKY and others.
LivePerson has the following features
Analyzes the flow of user conversations and can predict what will happen next
Determines the situation and switch to a manned response
Good at front-loading per requirement (proposing FAQ answers, routing to the person in charge and bot responses according to needs)
AI systems that are easy to tune
LivePerson comes with AI chatbots as well as messaging capabilities that are gaining global attention. It is recommended for companies wishing to introduce a non-voice channel for customer service.